Central and Western Queensland tourism experiences are Good To Go and not to be missed!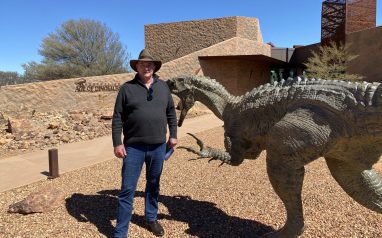 11 August, 2020
Following our RDACWQ Board meeting in Barcaldine last Monday, I was back in Outback Queensland and had the pleasure of spending some time in and around Longreach and Winton over the weekend. I am very impressed by the tourism experience, it's the real deal. I am also proud in knowing that RDACWQ has assisted in one way or another to secure funding for some of the unique drawcards on offer including the Australian Age of Dinosaur Museum just south of Winton who were successful in Round Four of the Better Building Region Funding.
A few of my highlights include Glamping at the Mitchell Grass Retreat, a great new tourism accommodation business. I also saw the breathtaking Luminescent Light Show at the Qantas Founders Museum, explored the Australian Age of Dinosaurs, learnt about our Pioneering History at the Australian Stockman's Hall of Fame and wandered through the new Waltzing Matilda Centre in Winton. There really is something for everyone in Outback Queensland.
There has never been a better time to travel and explore Queensland – Good To Go– but book ahead, it's busy out there!
Here are some links to help start your planning:
Mitchell Grass Retreat – https://mitchellgrassretreat.com.au/
Qantas Founders Museum – https://qfom.com.au/
Australian Age of Dinosaurs – https://www.australianageofdinosaurs.com/
Australian Stockman's Hall of Fame – https://outbackheritage.com.au/
Waltzing Matilda Centre – http://www.matildacentre.com.au/
Outback Pioneers Longreach- https://www.outbackpioneers.com.au/
Experience Longreach – https://experiencelongreach.com.au/
Experience Winton – https://www.experiencewinton.com.au/
Grant Cassidy OAM, Chair, RDACWQ