Media Release – RDACWQ meet with Deputy Prime Minister to explore Central and Western Queensland's economic priority projects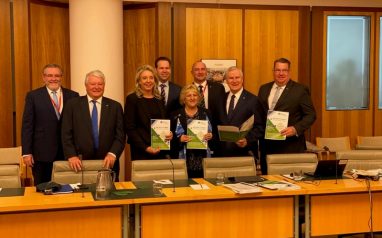 6 December, 2019
Regional Development Australia Central and Western Queensland (RDACWQ) has declared Central and Western Queensland as Australia's Powerhouse Region.
Covering 26% of Queensland, the region moves one fifth of Queensland's exports, is home to the Australian Defence Forces largest permanent training area, attracts 1.9 million overnight visitors, employs over 8,500 people in the mining sector, produces approximately $2 billion in agricultural produce and around $18 billion in Gross Regional Product annually.
With a proven track record in delivering economic outcomes RDACWQ collaborated with all three levels of government to identify and agree on the regional projects that will give the region the biggest bang for its buck and ensure optimal growth for the region.
RDACWQ Chairman Mr Grant Cassidy OAM, said "Over the past several months we have worked closely with all three levels of government, to create a truly integrated picture of what this region thinks matters most in regard to economic development opportunities."
We have been heartened by the positive attitudes and collaborative efforts of our councils and the QLD Government to work together to build this agreed, prioritised list of projects that will deliver the greatest regional benefit for the people of Central and Western Queensland. We would like to thank all of the mayors and staff who contributed so freely and constructively to this project."
On Wednesday (4/12/19), Mr Cassidy and RDACWQ Director Mr Tony Gambling took the list of regional priorities to Canberra and presented them to a select group of elected representatives including:-
The Hon Michael McCormack MP, Deputy Prime Minister and Minister for Infrastructure, Transport and Regional Development;
Senator the Hon Matt Canavan, Minister for Resources and Northern Australia;
Senator the Hon Bridget McKenzie, Minister for Agriculture;
The Hon Scott Bucholz MP, Assistant Minister for Road Safety and Freight Transport;
The Hon Michelle Landry, Assistant Minister for Children and Families;
Mr Ken O'Dowd, Member for Flynn.
The presentation included a proposed investment of approximately $10 billion (total) into mining, industry, agriculture, tourism, transport and defence. Impressively it is projected that the investment would be recouped within only 2.5 years with a projected increase in annual regional GRP of 38% by 2030.
A full copy of the Overview of Economic Indicators and Regional Priorities for Central and Western Queensland is available here – https://rdafcw.com.au/publications-resources/overview-of-economic-indicators-and-regional-priorities-for-central-and-western-queensland-full-report/
Beginning in the week starting on Monday 9/12/19, RDACWQ will be delivering the same presentation to each of the Queensland MP's who seats are in Central and/or Western Queensland as part of a roadshow to ensure on-going unity of vision for the region.
Picture – From left – Tony Gambling RDACWQ, Ken O'Dowd MP, Sen. Bridget McKenzie, Sen. Matt Canavan, Michelle Landry MP, Grant Cassidy RDACWQ, Michael McCormack MP, Scott Bucholz MP.
Media Contact:
Mr Tony Gambling
Director of Regional Development, RDACWQ
Ph. 0447 620 688
RDACWQ is an initiative of the Australian Government to support the growth and economic development of the Central and Western Queensland region. We build partnerships to develop strategies and deliver sustainable infrastructure and services to the region.