Economic Futures Forum 2020, Business Breakfast – Emerald – 11 March 2020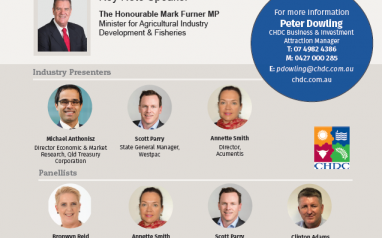 31 January, 2020
Shifts and developments across the economy over the past few years are rapidly changing the way that the Central Highlands does business. From now and into the future, our region's businesses must be prepared to tackle emerging disruptors, market opportunities and changing demographics to capitalise on the green shoots of opportunity.
CHDC's 2020 Economic Futures Forum will touch on comparative data, forecasting and economic updates to gain perspective for the path ahead in 2020. The aim is to build knowledge and awareness within our business communities to support them to make informed decisions in future business planning that is sustainable and viable.
This will be an early morning event to enable attendees to get on with their working day upon the Forum's conclusion.
Register here.