Heywire Trail Blazers – NOW OPEN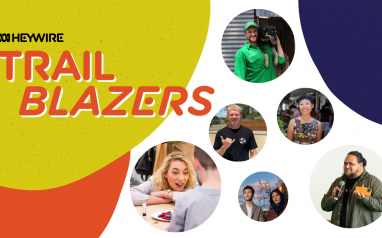 26 September, 2022
Applications are now open for the ABC's Trailblazers program in 2023, which showcases the stories of regional Australia's brightest new leaders.
Trailblazers is an opportunity for young innovators, aged 18 – 28, who have started social, educational and economic development projects in their regional communities, to have their work celebrated nationally.
Previous Trailblazers projects have tackled issues including strengthening Indigenous culture, youth mental health, sustainable agriculture, employment, education and supporting remote entrepreneurs.
2022 Trailblazer winner, Tisha Tejaya from Larrakia Country, Darwin, NT, tells the stories of her community in innovative ways through her project, Cornucopia. In 2020 she published a guidebook to the produce used by Darwin's diverse community, including stories of how migrant communities use these ingredients.
"Trailblazers has been a whirlwind, incredible experience. I'm simply doing things I never dreamt I would do. Trailblazers has also been incredible in building confidence and skill. The program has been the opportunity of a lifetime!"
Jameson Harvey is an ABC Trailblazer from Gubbi Gubbi Country, West Woombye, QLD. He applied for Trailblazers last year with his project 'Red Dirt Robotics', a high-quality robotics workshop seeking to empower, inspire and engage the next generation of young engineers in regional Australia.
"Being part of the Trailblazers program has been so beneficial to the development of 'Red Dirt Robotics' through the continuous support. My project has grown by leaps and bounds since the last year. Plus, meeting so many incredible people from regional Australia doing awesome things has been one of the best parts too!"
Who can apply to be a Trailblazer?
Individuals and groups of up to three, aged 18-28, who are initiating projects that create positive change in their communities.  From young community leaders to social entrepreneurs, advocates to event organisers, ABC Trailblazers are looking for young people with a commitment to strengthening their regional communities.
What do Trailblazers receive?
The chance to have their work featured on the ABC.
Exclusive opportunities to apply for Trailblazer Development Fund grants, a partnership with the Sally Foundation and the Foundation for Rural and Regional Renewal.
Extensive networking, media and leadership opportunities.
Applications close Thursday 20th of October, 2022. To apply, visit abc.net.au/trailblazers