Solid representation by CQ at the Regional Australia Institute Regions Rising National Forum in Canberra.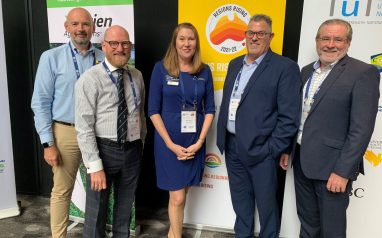 19 March, 2021
The Regions Rising National Summit took place this week with a number of Central Queensland Organisations representing our fabulous region.
The conference was well received by all, with a focus around strengthening liveability – attendees walked away with a toolkit for rural and regional communities looking to grow.
Picture from left to right – Central Highlands Development Corporation CEO Adrian Bloemer, Rockhampton Regional Council Advance Rockhampton General Manager Greg Bowden, Capricorn Enterprise CEO Mary Carroll, Central Highlands Regional Council Business and Investment Attraction Manager Peter Dowling, and Regional Development Australia Central and Western Queensland Director Tony Gambling