Yeppoon and Emerald have been announced as two of 44 new nbn™ Business Fibre Zones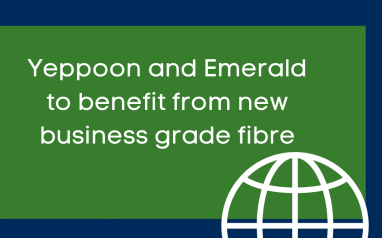 10 August, 2021
NBN Co today announced the creation of 44 new nbn Business Fibre Zones to deliver premium business- grade fibre to an additional 60,000 eligible businesses premises across Australia, on demand, with no charge for the design and construction of fibre to the premises when they order a premium business nbn Enterprise Ethernet service.
Yeppoon and Emerald have been announced as two of the 44 new business nbn fibre zones.
As a result, from 1 September an estimated 954 of businesses within the Emerald nbn Business Fibre Zone and 698 of business within the Yeppoon  nbn Business Fibre Zone will have access to fast services over a business-grade fibre network at a time when reliance on driving online presence, digital collaboration platforms and cloud-based tools is becoming more significant for businesses.
For background, in September 2020 nbn announced the nbn Business Fibre Initiative to help level the playing field for businesses of all sizes, and in more locations, by reducing the variation in the cost of business broadband services regardless of where a business is located. The announcement of the first nbn Business Fibre Zones was part of this.
Eligible businesses within existing and newly announced nbn Business Fibre Zones can benefit from:
no up-front build cost to internet providers for the fibre deployment, on demand, and no up-front connection cost if a business orders a business nbn Enterprise Ethernet service on a three-year term,
access to discounted monthly wholesale charges, up to a 68 per cent discount for some businesses.
A Service Delivery Guarantee to complete the design and construction of new fibre infrastructure in most business locations within the nbn fixed line footprint within 50 business days.